Connections & Realisations
Time for connections and sparking realisations. How is everybody doing? The world is now on week 7 or so of being paused. Every day seems like a repeat of yesterday, with the hope tomorrow will bring a slight change. Have we finally begun to accept the situation we find ourselves in? Can we now start to make some realisations within ourselves?
"How are you really?"
When posed with this, the answers tend to be glazed over. In a way, the question is merely a formality as well, especially in the case of us Brits. I was recently asked this question by a stranger, and somehow this made me completely open up. No inhibitions: I wasn't hiding. And as a result, it is now leading me down an exciting path that I can't wait to reveal later on this month. The point is, be honest and let down some barriers. That is how we can make new connections and realisations which is so important right now.
The last few weeks have shown me a lot about myself and the people around me. It's become apparent that a pandemic brings out peoples true colours. Character traits are being revealed. Interestingly I've been noticing people around me coming to realisations about themselves that they wouldn't have come to otherwise.
In myself, I have made some discoveries about where I want to be going and what I want to be doing. This realisation has been a kind of light bulb moment. It was always there, just hidden in the dark by daily life.
This is going to sound corny, but sometimes it's needed, right? Right now we are on a journey of becoming the person we will be. We all are. Our actions now, in the present, make up our future selves. Self-exploration is key to growing organically. Can you tell I've been doing a lot of yoga and inward-looking?
Ocean eyes
It dawned on me the other day that this is the longest I've gone without as much as a swim in the ocean, let alone surf, in the last seven years. Maybe even longer.
Having my oceanic connection put on hold has been tough. But it's making my passion and desire grow stronger. When I close my eyes, I can perfectly picture the rolling waves and hear the ocean call, as if I have a seashell to my ear. Creativity is overflowing in me that not a day goes by without pen to paper action. (Possibly because I have more free time now to think, but that is beside the point.)
I realise that water is my home. No matter what the temperature. I grew up wading and paddling in ice-cold rivers. Seaside trips sparked my desire. Aberystwyth filled it. Since then, I've been chasing tides to discover more and connect more with the ocean. I wandered the coasts of Australia just to stumble upon this neat little island. Indonesia is feeding my craving for now.
"Become a cheerleader for the world, and for yourself."
As always, my inspiration is fuelled by the fabulous Cleo Wade. "You are the first person you speak to in the morning." So be a cheerleader. Use this time of forming connections and making realisations to better how you treat yourself. Celebrate newfound goals and carve your path towards making them happen.
May is Mental Health Awareness Month. I think I wrote about this last year with Anxiety Sisters, but I was probably late. My deadlines for myself tend to blur as other deadlines crop up. With mental health in mind, connections and realisations are even more important. Give yourself a chance to do both. It is only you that is stopping it.
On that note, I will wrap up. Embrace who you are becoming in the path you are going down, and bloom. Bloom bright and celebrate.
---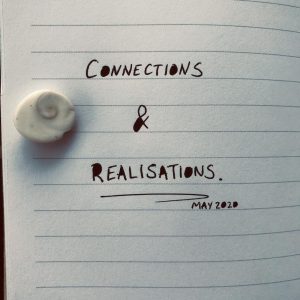 "Rooted from the depths of your waters, I found myself blooming"